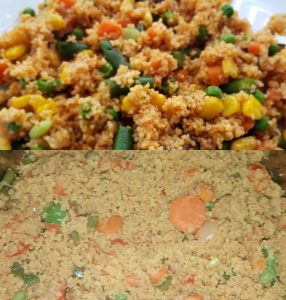 Indulge in the Delight of Homemade Stir Fry Cous Cous! Discover the Ultimate Recipe for Four Servings.
Join us on a Flavorful Journey as we Unveil the Secrets to Creating this Mouthwatering Dish How To Make Stir Fry Cous Cous For 4 Servings.
Get Ready to Elevate Your Culinary Skills and Satisfy Your Taste Buds By Watching The Step By Step Guide Video Below;
Ingredients
i. 2 cups of cous cous
ii. 2 cups of water
iii. 1 large onion
iv. 1 large garlic (optional)
v. 3 scotch bonnet (attarugu)
vi. 1 large bell red pepper
vii. 1 large green bell pepper
viii. Broccoli (optional)
ix. 2 large carrots
x. Green beans
xi. 1 teaspoon grated ginger
xii. 3 sausages
xiv. Sardine (optional)
xv. 1 pinch salt
xvi. Seasoning cubes to desired taste
xvii. Spices(black pepper, clove, curry and paprika)
xviii. 2 cooking spoons vegetable oil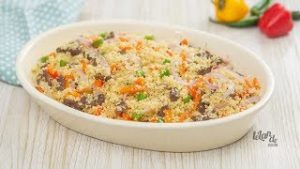 Step By Step Guide
1. Pour cous cous in a bowl and add hot water to it
2. Stir and close to soak for a while
3. Put oil in a heated pan and allow to heat a bit
4. Add onion, ginger and garlic and stir for a minute
5. Add sausage,carrots, broccoli and beans and stir for 2 minutes
6. Add scotch bonnet, red bell pepper and green pepper and stir for minute
7. Then add salt, seasoning cubes and spices
8. Add your soaked cous cous and continue to stir
9. Add sardine and stir, then leave to cook for 2 minutes and it's ready.
THE END!!
You can also checkout ⇓
FAQS
1. How can I Flavour my couscous?
Fruit: Many couscous recipes use dried fruit like apricots or currants. For a sweet/sour balance, try craisins or pomegranate seeds (in season).
Chopped green olives with preserved lemon (or lemon rind) are a classic combo that goes well with chicken.
2. What is the best way to eat couscous?
Here are a handful of my personal favourites:
1. Toss it into a salad. Make a Mediterranean couscous salad with roasted tomatoes and chickpeas.
2. As a side dish, serve it.
Below is my favourite way to serve this small pasta as a simple side dish.
1. Add some stew on top.
2. Make it a meal in and of itself.
Does couscous have to be boiled?
Nowadays, we buy precooked couscous at the market. That means it's practically ready to use right out of the box, which is one of the main reasons we like it so much.
However, it just takes 5 minutes in very hot or simmering (not boiling) water (depending on brand) to allow moisture to flow back in.