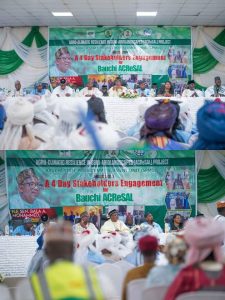 FREE AIRTIME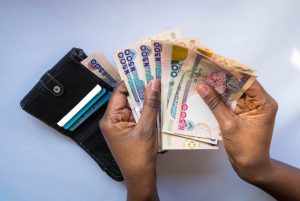 The Unveiling Of Acresal Project To Stake Holders By His Excellency Governor Of Bauchi State Senator Bala Muhammad Abdulkadir
His Excellency, the Executive Governor of Bauchi State, Senator Bala Abdulkadir Muhammed Kauran Bauchi has announced the release of two million dollars to the State by the World Bank to commence the implementation of the Agro-climatic Resilience in Semi-Arid (ACReSAL) project in Bauchi State.
Governor Bala announced this at the first ACReSAL project pre-launch stakeholders meeting held at Command Guest House, Bauchi, saying the release of the advance payment was as a result of the tremendous commitments demonstrated by his administration in meeting the requirements of accessing the funds.
Bala Mohammed explained that the, stakeholders meeting is a pre- requisite for the successful implementation of the project, said, the decision for the state to participate in ACReSAL lroject was an added effort towards tackling disasters and natural emergencies through implementation of a number of multi-sectoral initiatives to address a number of ecological challenges.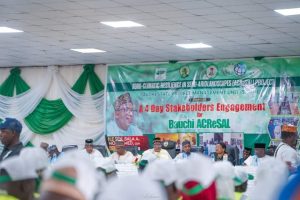 Bauchi state, the governor said, has since released its counterpart funds of 500 million naira in 2022, in addition to the budgeted additional 500 million naira in 2023 making the total contributions to 1 billion naira within two years.
He added that the ACReSAL project is well-articulated and timely, particularly that it is in tandem with his administration's cardinal principles of prioritizing sectors of environment, agriculture and water resources.
According to him, the project which has six year implementation period, and is, he added, targeted at impacting on the livelihood of more than three million people, particularly in the rural communities in the state.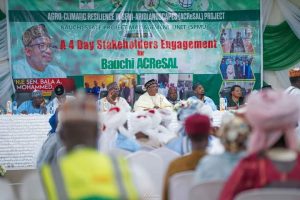 Governor Bala used the medium to congratulate the people of Gwaram, Kirfi, Gololo, Gwallagan Mayaka, Duguri, Suleiman Adamu and Yakubun Bauchi communities for being part of the beneficiaries of the huge interventions of civil works to include storm water- drainages and dams to avert effects of flooding and erosion.
He said apart from civil works, the ACReSAL projects will intervene in massive tree planting, irrigation farming, Agro-Forestry, Green House Farming, Plant Nursery Development Units, farm produce Processing Centres and Integrated Solar- Powered Borehole schemes across all the local government areas in the state.
In his acceptance speech, the State Patron of ACReSAL Project, His Royal Highness, the Emir of Katagum, Alhaji Umar Faroouk Umar, expressed gratitude to the governor for finding him worthy and promised to work with all the stakeholders to achieve the desired objectives.
Lawal Muazu Bauchi
New Media Aide to Bauchi Governor
22/02/23