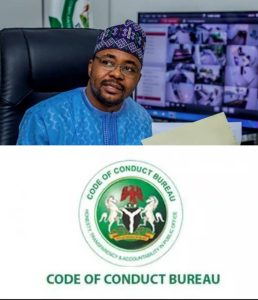 Hukumar EFCC da Code of Conduct Bureau, CCB sun gayyaci shugaban Hukumar Korafe-korafen Jama'a da Yaki da Cin Hanci da Rashawa ta Jihar Kano, PCACC, Muhuyi Rimingado, domin yi masa tambayoyi kan kudaden hukumar.
Kwanan nan Mista Rimingado ya ce ya gudanar da binciken kwakwaf kan faifan bidiyo da ke nuna tsohon gwamnan jihar Kano, Abdullahi Ganduje, na karbar makudan kudade da ake kyautata zaton cin hanci ne.
Sai dai a wani abu da ake ganin kamar fadan Gwamna Ganduje ne, a lokaci guda hukumar EFCC da CCB sun kaddamar da bincike kan ayyukan Mista Rimingado a hukumar.
Wasikar EFCC mai dauke da kwanan wata 8 ga watan Agusta, 2023, ta ce: "Hukumar na binciken wani lamari da bukatar samun takamaiman bayani daga ofishin ku ya zama wajibi.
"2. Bisa ga abin da ke sama, ana buƙatar ka da ka saki Daraktan Kuɗi da Akanta don bayar da rahoto don tattaunawa da waɗanda aka sanya hannu ta hanyar Jagoran Team AFF/TC a Lamba 301/302 Institution and Research District Jabi, kan titin filin jirgin sama, Abuja ranar Litinin. 29 ga Agusta, 2023 da awanni 1000. Ya kamata ya zo tare da wadannan bayanai:
"I. Cikakkun bayanai na jimillar kudaden da ofishin Akanta Janar na jihar Kano ya fitar a ofishin ku daga shekarar 2019 zuwa 2021.
"II. Cikakkun bayanai na jimillar kudaden da Ma'aikatar Kananan Hukumomin Jihar Kano ta fitar wa ofishin ku daga shekarar 2019 zuwa 2021 da suka hada da kwangilolin da aka aiwatar da bayanan asusun masu cin gajiyar."
A daya bangaren kuma, wasikar ta CCB, mai kwanan wata 16 ga watan Agusta, 2023, ta bukaci Mista Rimingado da ya baiwa ofishin bayanan kwato, asarar da aka yi, da sarrafa kudaden hukumar daga shekarar 2016 zuwa yau.