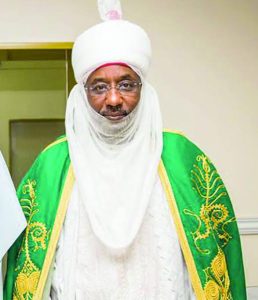 SLS and The Throne
In 1967, Israel absorbed a major part of historical Palestine and expelled hundreds of thousands of Palestinians from their homes. Today, the majority of right-thinking people support Palestine, hoping they get back what truly belongs to them.
On 9 March 2020, Emir Sanusi Lamido Sanusi, the 14th Emir of Kano, was dethroned by Governor Abdullahi Ganduje. Reliable sources have it that he was dethroned because he opposed the ill-policies of Governor Ganduje.
When he was dethroned, there was a serious outcry from the public considering the fact that SLS is incredibly popular. Before dethroning SLS, Governor Ganduje created four new emirates: Gaya, Rano, Karaye, and Bichi. After dethroning SLS, Aminu Ado became the new Emir of Kano.
SLS has a great personality. I used to envy Kano for having such a person as their Emir. After he left Kano, he was crowned the Khalifa of the Tijjaniyya Sufi Order in Nigeria. I was so happy because I can now have him as my leader as well, considering the fact that anyone can join Tijjaniyya.
After the just-concluded 2023 elections, Abba Kabir Yusuf was elected the new governor of Kano. AKY is in good terms with SLS and is set to restore Kano State back to its glory days, making sure the ill-policies of Governor Ganduje are all reviewed accordingly.
This has sparked a debate about whether SLS will be reinstated or not. Some are of the opinion that SLS should come back, while others are saying he shouldn't.
To me, this can be compared to some extent with the Israel vs Palestine story I mentioned earlier.
There is nothing wrong with SLS wanting his throne back. A king was dethroned without any proper reason, and some are here saying he shouldn't go back. At least, he is trying to get it back through a healthy process. Most of us don't know how heavy dethronement is on a king.
The fact that some people think if another governor comes, SLS will be dethroned is not a sufficient reason for him not to get his throne back. How sure are you that the governor who will succeed AKY is like Ganduje or that Kano might have a governor that will ever dethrone an Emir in SLS's lifetime?
The Emirs that were used by Governor Ganduje in his game shouldn't have allowed him to use them, for definitely, a day like this is bound to come.
I believe that as long as it is morally right for SLS to get his throne back, there's no reason for us common people to be against it.
If we always ignore the wrong things that were done that affected our state and move on without advising against those decisions, we would be surprised at the results in the long run.
Here's a simple question for those who are against SLS's return: Imagine if a governor bans the whole traditional monarchies, will you support his successor to revive it back?
May God choose what is better for both SLS and Kano, amin.
Rayyan Tilde
29.04.2023