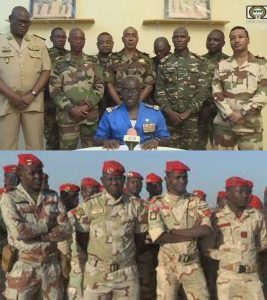 Firaminista Ali Mahaman Lamine Zeine ne zai jagoranci gwamnati mai mambobi 21, tare da janar-janar na sabuwar majalisar mulkin soja.
Shugabannin sojoji a Nijar da suka kwace mulki a watan da ya gabata sun kafa sabuwar gwamnati, kamar yadda wata doka da suka karanta a gidan talabijin na kasar a ranar Alhamis.
Firayim Minista Ali Mahaman Lamine Zeine ne zai jagoranci gwamnati mai mambobi 21, tare da janar-janar sabuwar majalisar mulkin sojan da ke jagorantar ma'aikatun tsaro da na cikin gida.
GA masu matsayin kamar haka:
1 Prime Minister, Minister of Economy and Finance #LAMINE_ZEINE
2-MINISTER OF STATE ,MINISTER OF DEFENSE #SALIFOU_MODY
3-MINISTER OF STATE,FOR THE INTERNAL AREA OF PUBLIC SECURITY AND TERRITORY ADMINISTRATION #MOUHAMED_TOUMBA
4-MINISTER OF YOUTH AND SPORTS COLONEL ABDOURAHAMANE AMADOU
5-MINISTER OF FOREIGN AFFAIRS, COOPERATION AND NIGERIAN ABROAD #BAKARY_YAOU_SANGARE
6-MINISTER OF PUBLIC HEALTH AND SOCIAL AFFAIRS #MEDICIN_COLONEL_GARBA_HAKIMI
7-MINISTER DIRECTOR OF THE CABINET OF PR OF #CNSP #Dr_SOUMANA_BOUBACAR
8-MINISTER OF AGRICULTURE and Husbandry #MAHAMAN_ELHADJ_OUSMANE
9-MINISTER OF HIGHER EDUCATION, RESEARCH AND INNOVATION #MAHAMADOU_SAIDOU
10-MINISTER OF EDUCATION OF LITERACY OF VOCATIONAL EDUCATION AND PROMOTION OF NATIONAL LANGUAGES #DR_ELISABETH_CHERIF
11-MINISTER OF TRANSPORT AND EQUIPMENT #SALISSOU_MAHAMAN
12-MINISTER OF HYDRAULICS, SANITARY AND ENVIRONMENT #COLONEL_MAIZAMA_ABDOULAYE
13-MINISTER OF JUSTICE HUMAN RIGHTS, GUARDIANS OF SEAL #ALIO_DAOUDA
14-MINISTER OF PUBLIC FUNCTION, LABOUR AND EMPLOYMENT #AISSATOU_ABDOULAYE
15-MINISTER OF URBANISM AND HABITATION #SALISSOU_SAHIROU_ADAMOU
16-MINISTER OF HUMANITARIAN ACTION AND DISASTER MANAGEMENT #AISSA_LAWAN
17-MINISTER OF OIL, MINES AND ENERGY #MAHAMANE_MOUSTAPHA_BARKE
18-MINISTER OF CRAFTS AND TOURISM #GUICHEN_AGA RECHA_ATTA
19-MINISTER OF COMMUNICATION, POSTS AND DIGITAL ECONOMY #SIDI_MOHAMED_RALIOU
20-MINISTER OF TRADE AND INDUSTRY #SAYDOU_ASMAN
21-DELEGATE MINISTER AFTER THE PRIME MINISTER IN CHARGE OF FINANCE #MOUMOUNI_BOUBACAR_SAIDOU
Kadan daga cikin labaran Nijar da Najeriya kenan.