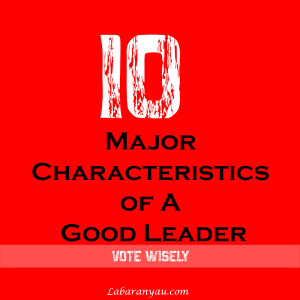 FREE AIRTIME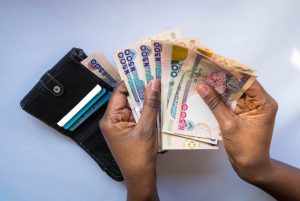 10 Major Characteristics Of A Good To Go Leader, 10 Things You Should Know As A Patriotic Citizen So As To Elect Best Governance That Will Reinstate Nigeria And Put It On The Next Level Track.
I am one of Labaranyau Blog News Reporter, i made an indept research and decided to publish an article that outlines the 10 good characteristics of a good leader giving good examples with some of the prominent politicians.
This 10 characters states sign of a good leader, in a country like Nigeria we need a competent leader, someone who will do every just to put his people ahead this are things one most possess in order to be choosen as the next president, governor, senator or the reps in a state.
What i have come to realize in Nigeria is that, politics is often seen as a dirty game and i can seemingly say its for a good reason thou. The country has a long history of corruption and mismanagement, which has led to the underdevelopment of its people and resources today.
However, there are still some politicians who are doing their best to make a positive impact in the country despite all the mismanagements and bribery.
Currently, Nigeria has 36 states (federal capital territory inclusive). These states are led by governors, each having their deputies who work in their absence. Following the provisions of the 1999 constitution of Nigeria, governors are to be elected into office and they are expected to rule for just 4 years.
Over the years, all the states in Nigeria have been ruled by different people. Since Nigeria got her independence in 1960 and started practicing federalism, the achievements and accomplishments of some of our governors has been documented in different journals, books and even magazines.
This article will therefore discloses the 10 major characteristics to be called a good Nigerian politician with good examples of politicians that have performed well in that field.
1. Integrity:
To be called a good Nigerian politician one should possess a high level of integrity. Yes integrity matters foremost when selecting a leader.
This means an aspirant politician should be a honest, transparent, and accountable person in in his dealings with the people he serve.
An example of a politician with integrity is Governor Babagana Umara Zulum of Maiduguri State, who has stood with soldiers in Sambisa descending on the Boko Harams, he have been by his people in the sun or rain tmaking sure every standard of living was enhanced amongst his people
The representative of the civil servants and Chairman of Trade Union Congress, Borno Chapter, Comr. Babayo Hamma Shani said Zulum had undertaken a complete revolution of the civil service.
"Your Excellency, for the record, you are the first Governor in Nigeria that implemented the new N30,000 minimum wage. You are also the first Governor in Nigeria to release N12b to be paid for the retired civil servants in Borno.
The workers of Borno State Government were very happy with your achievements as it affects them directly and indirectly. Your Excellency, I want assure you of the unflinching support by the workers of Borno State." Chairman TUC said.
Babagana Zulum Receives Award As Best Governor In Nigeria Watch Video Below;
2. Vision:
Without clear vision a politician is not planning brighter future for the country. An ambitious leader should be able to identify the challenges facing the country and propose working solutions to address those problems.
Governor Bala Muhammad Abdulkadir of Bauchi State is an example of a politician with a clear vision.
The project breakdown as shown below, it's a distribution between the urban and rural areas of the state, equally portrays the Governor as an equitable leader who is passionately connected to the plight of every Bauchi citizen without regard to their social statuses, places of residence and local council of Origins.
The projects includes the construction of 6.25km Sabon Kaura -Jas road, 4.4Km Gombe By-pass road, 1.1km Muda Lawan Market dual carriage road and the 1.8km Yakubun Bauchi link road.
Others under construction are the 1.8 km Tafawa Balewa Road and the 15 km Hospital Road projects, 16Km Sade Akuyam Road which links Darazo and 8.4 Km Yelwan Duguri Tora -Badaran Dutse, both in Southern and Central Senatorial districts, respectively In just two years of his administration, Gov. Bala Mohammed proved his mettle, and reinvigorated the waning hope of not just Bauchi state people alone but the intactness of the Nigerian people in the political class.
By constructing and rehabilitating 199.7 kilometers of Township and inter-city roads in These projects and the construction of another 1. township roads in Bauchi metropolis are at 90 percent completion, Gidado said.
Here are 30 selected projects programs and achievements of Bala Muhammad Kauran Bauchi.
1. Construction of Disina Road, Shira LGA.
2. Construction of new Dam in Bauchi state.
3. Construction of Dunkurmi Primary Health Care, Misau LGA.
4. Construction of New Hajj Camp in Bauchi.
5. Reconstruction of Ganjiwa Primary Health Care Centr, Dambam LGA.
6. Construction of New Palace of Baraza, Dass LGA.
7. Construction of New Palace of Bundott, Dass LGA.
8. Construction of Jajuwal-Ganye-Dakayal-Bakin Kogi Road.
9. Construction of Yalwan Duguri-Badaran Dutse Road.
10. Construction of Birin – Bajama – Kumbala Road.
11. Construction of Kundak – Wurmo – Burga Road.
12. Construction of Jalam Road, Dambam LGA.
13. Construction of Emergency and Infection Disease.
14. Construction of Bununu Road, Tafawa Balewa LGA.
15. Construction of Alkali Aminu – Bakaro – Kofar Dumi Road.
16. Construction of Ganjuwa/Jaja to Jahun Road.
17. Construction of Kasuwar Central to gidan sarkin Kasuwa, wunti Road.
18. Construction of Kasuwar Central to Karofin Madaki to Railway Road.
19. Construction of Prison- Shagari to Railway Road.
20. Construction of Bata to Anguwar Jaki Road.
21. Construction of Nasaru- Gwam- Balma road in Ningi
22. Construction of Sade – Akuyam Road, Darazo LGA
23. Construction of Warji- Gwaram road
24. Construction of Bogoro- Lusa road
25. Construction of GRA Azare – Old Kano Road, katagum LGA.
26. Construction of Malam Goje – Bakin Kura Road.
27. Construction of Bakin Kura – Muda Lawal Market Road.
28. Construction of Tapshin Road.
29. Construction of school in Nasarawan Dindima, Alkaleri LGA.
30. Construction of Gombe Abba- Kirfi road.
3. Empathy:
If a politician is not empathetic towards the needs of the people he serve, then that leader is not deem fit to govern that seat. An empathetic leader should be able to understand the struggles and challenges facing their constituents and work to address them.
Senator Ben Murray-Bruce is an example of a politician with empathy. He has used his platform to advocate for the welfare of the people, particularly in the areas of healthcare, education, and youth empowerment.
Ever heard of the "common sense senator" Benedict Murray-Bruce? Here's a detailed profile of his background, business life and net worth. The aim is that you get inspired by the tenacity, determination and humility of Ben Bruce.
Ben Murray Bruce is a business mogul, a politician, an authority in the entertainment industry and a philanthropist. He is the chairman of the Silverbird Group and the author of the book 'Common Sense Revolution'. He is a senator representing the East constituency of Bayelsa State in Nigeria.
4. Courage:
A good Nigerian politician should be courageous and willing to take bold actions for effective changes. This means they should not be afraid to speak truth to power or challenge the status quo.
Governor Aminu Tambuwal of Sokoto State is an example of a politician with courage. He has been vocal in his criticism of the federal government's handling of insecurity in the country, and has taken steps to address insecurity in his state.
Apart from the prompt payment of salaries, he has undertaken series of laudable projects in the last five years. A financial analyst, Abubakar Bello, once said  that most people who don't know Tambuwal may not appreciate him for now.
Bello described Governor Tambuwal as God-sent at this period characterised by paucity of funds, given how he keeps managing the scarce resources for the benefit of all. "If you look at how he has been running the state, you will definitely appreciate him for being prudent in spending. I was once one of his critics, until I took it upon myself to compare his earnings with what is on the ground. I then realised he is special.
5. Competence:
As a good leader/politician one most possess the necessary skills and expertise to effectively carry out their duties. They should be knowledgeable about the issues facing the country and have the ability to develop and implement policies to address them.
Former Governor Donald Duke of Cross River State is an example of a politician with competence. During his tenure, he implemented several policies that transformed the state's tourism and agricultural sectors.
He explains how required funds were secured from banks and funding agencies, and he emphasizes the need for thorough and accurate data analysis of before any reforms were to be implemented.
Duke recounts how he used digital mapping of the state to influence his investment in infrastructure.  Throughout the interview, Duke explains the need for leaders to be approachable, open to the public and dedicated.
6. Accountability:
A good to go Nigerian politician should be very accountable to the people he serve. A worthy leader should be willing to answer questions about their actions and decisions, and be open to feedback and criticism.
Nasir el-Rufai is currently one of the best governors in Nigeria and also one of the most accountable, transparent and responsible governors Kaduna state has ever had. He is an experienced and well respected politician. In fact, many Nigerians profess that he is good, especially citizens from Kaduna state.
It will also surprise you to know that Governor Nasir el-Rufai of Kaduna state has served as the Minister of the Federal Capital Territory from 2003 to 2007; and the director of the Bureau of Public Enterprises. In fact, he is one of the founding member of APC. Currently, he is respected by other leaders in APC too.
When Nasir el-Rufai was tested positive to the Corona Virus in 2020, he publicly announced it to the nation as a good leader, and followed the instructions by the government to isolate himself so as to prevent the virus from spreading. No doubt, he is equally on of the best governors in Nigeria this 2020.
7. Humility:
A good Nigerian politician should be humble and approachable. This means they should be willing to listen to the concerns of their constituents and work to address them. Governor Seyi Makinde of Oyo State is an example of a politician with humility.
In the past one year, the Governor Seyi Makinde led administration has embarked on the following projects to ensure safe, adequate and efficient infrastructure in the state:
1. Vehicle transition areas: Construction of four modern bus terminals strategically located at exits and entrance of Ibadan; Iwo Road, New Ife Road, Challenge and Ojoo.
2. Construction and rehabilitation of roads and bridges and junction improvement to decongest traffic within major cities;
General Gas Flyover ( Ongoing)
Challenge/Felele junction improvement (completed)
Dualisation of 9.7km Saki Township Road (Ongoing)
3. Inclusion of road furniture such as; traffic signals, lay bye, road marking and zebra crossing.
8. Transparency:
A good Nigerian politician should be transparent in their dealings with the people they serve. This means they should be open about their sources of funding and be willing to disclose their financial records.
Governor Tanko Al-makura of Nasarawa State has been named the most transparent governor in Nigeria in 2014, as he beat two other governors to emerge the winner.
The award ceremony for the most transparent governor 2014 was organised by the Foundation for Transparency and Accountability (FTA), a non-governmental organisation, with interest based on transparency and accountability. It worked with the Economic and Financial Crimes Commission (EFCC) through research to choose the winners.
Transparency and accountability is not a creation of a particular political party, and that explained why politicians from various political parties were gathered to learn a thing or two about transparency.
The governor, who could not contain his happiness for emerging the most transparent governor in 2014, stepped out to personally receive the award.
Mr Al-makura while speaking at the event held in Abuja on Tuesday, dedicated the award to the resilience of Nasarawa State indigenes and for their support.
9. Inclusiveness:
A good Nigerian politician should be inclusive in their approach to governance. This means they should be willing to work with people from different backgrounds and political affiliations to achieve common goals.
A group, the Power Shift Movement (PSM), comprising young people in governance, has conferred national ambassador honour on Enugu State Governor, Ifeanyi Ugwuanyi as the most youth-friendly governor in the country.
The youth group, which is mobilising young people to be more involved in governance, said Ugwuanyi was being recognised for his contributions to youth empowerment in the state.
In one of his assertions, the Spiritual Director of Adoration Ministry Enugu Nigeria (AMEN), Rev. Fr. Ejike Mbaka described Governor Ugwuanyi as a rare, peaceful and God-fearing leader who has continued to lead the state with uncommon zeal, passion and humility even after his re-election in office, stressing that "Enugu has never had a kind-hearted leader like Ugwuanyi".
Also in his recent verdict, Rev. Fr. Mbaka stated that Governor Ugwuanyi remains the most peaceful governor in Nigeria, adding that the governor is a father to all and a very friendly governor who cannot do without making peace.
10. Patriotism:
A good Nigerian politician should be patriotic and committed to the development of the country. This means they should put the interests of the country and its people above their personal interests.
Making the presentation, recently, Director-General of the organization, Chief Godspower Obaro, said the meritorious award is in recognition of Governor Okowa's "ground-breaking performance as the foremost Nigerian governor with the largest number of road projects, youth empowerment, skill acquisition, infrastructure development, small and medium scale industry empowerments for indigenes of the state, as well as promotion of peace and security and human capital development, which have altogether created prosperity for all Deltans within the record time of three years that Governor Okowa has been in office."
In conclusion,
Being a good Nigerian politician requires a combination of personal qualities and professional expertise. It is important for politicians to possess integrity, vision, empathy, courage, competence, accountability, humility, transparency, inclusiveness, and patriotism to effectively serve the people.
The examples provided in this article demonstrate that there are still politicians in Nigeria who possess these qualities and are working towards the development of the country.
It is important for Nigerians to continue to demand good governance and hold their elected officials accountable to ensure that they serve the people's best interests.
Top Ten Best Performaning Governors In Nigeria 2022
Watch The Battle Between The Presidential Candidate And Supporters
In this video below you will get to see the real battle between the 4 presidential candidates and their supporters.
Atiku Abuakar
ola Ahmed Tinubu
Peter Obi
Kwankwaso
Watch Video Below;