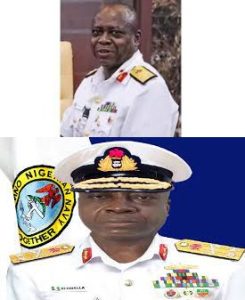 FREE AIRTIME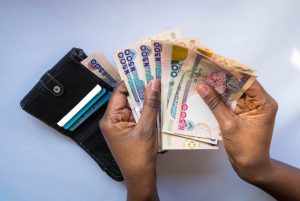 Rear Admiral Ogalla, also known as Emmanuel Ikechukwu Ogalla, was born on December 20, 1968, in Igbo-Eze North LGA, Enugu State, Nigeria. He has attained the rank of Rear Admiral in the Nigerian Navy and is a highly distinguished naval commander.
President Bola Tinubu named Rear Admiral Ogalla as the Chief of Naval Staff on June 19, 2023. For his devotion to and contributions to the Nigerian Navy, he has received numerous honors, including the FSS, DSS, MSS, and GSS.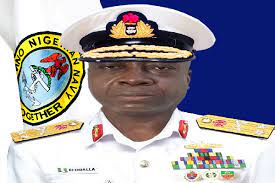 Rear Admiral Ogalla Profile
Full Name: Emmanuel Ikechukwu Ogalla
Date of Birth: December 20, 1968
Age: 54 years old
State of Origin: Enugu State.
Nationality: Nigerian
Religion: Christian
Spouse: Ijeoma Ogalla
Profession: Officer
Net Worth: $
Rear Admiral Ogalla Early Life and Education
Rear Admiral Ogalla, also known as Emmanuel Ikechukwu Ogalla, was born on December 20, 1968, in Igbo-Eze North LGA, Enugu State, Nigeria. He went to NMS Zaria, where he earned his WAEC score and graduated as the "Best Boy" in the sciences.
With a BSc in Mathematics, Emmanuel Ikechukwu Ogalla was recognized as the top naval cadet in his class and given the Sword of Honour. He attended the National Hydrographic School in India, where he finished the junior and senior staff courses for the STC NNS QUORRA. Additionally, he has a Master of Science in Strategic Studies from the University of Ibadan.
Rear Admiral Ogalla Career
In 1992, Emmanuel Ikechukwu Ogalla was commissioned as a lieutenant, and by 2021, he had advanced to the rank of rear admiral. In addition to ARADU, AAMBE, LANA, NNS AMBE, AGU, BEECROFT, DELTA, PATHFINDER, and QUORRA, he has also served on several more ships.
While serving on NNS EKUN in 1996, Emmanuel Ikechukwu Ogalla participated in the ECOMOG Operations in Liberia. After that, while aboard NNS PATHFINDER, he served as the Base Operation Officer, in charge of managing both the base's overall policing responsibilities as well as anti-illegal bunkering operations.
Professional Contributions and Responsibilities
The accomplishments of Rear Admiral Ogalla go beyond his roles in the navy. He taught a variety of courses at NNHS, including geodesy, datum conversion, tidal forecasting and analysis, satellite surveying, and bathymetry. His efforts to connect the School with Teledyn Marines, a reputable US OEM, made it easier to purchase a variety of survey equipment, which increased practical instruction.
During his time at NNHO, he also contributed significantly to the localization of tidal prediction and analysis. He actively took part in the FAO-sponsored survey of the Guinea Current Large Marine Ecosystem and contributed knowledge for the creation of NNHO charts.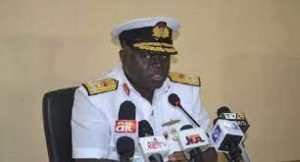 As a member of the NDC, Rear Admiral Ogalla improved the research package for the College and oversaw the participants' research study excursion to South Korea and China. He assiduously examined prior naval actions in his capacity as DLL to draw lessons for doctrinal and operational advancements.
Decorations, Memberships, and Personal Life
Rear Admiral Ogalla has received numerous awards, including the FSS, MSS, DSS, and GSS. He is an honored member of the International Earth Rotation Services, the Nigerian Institute of Management, and the Nigerian Hydrographic Society. He also holds the title of fellow of the UK's Occupational Safety and Health Association.
Rear Admiral Ogalla is happily married to Mrs. Ijeoma Ogalla, and the couple has two children together. He likes reading, jogging, and doing research on science and the environment, among other things.
Conclusion
The selection of Rear Admiral Ikechukwu Ogalla as the new Chief of Naval Staff is a tribute to his illustrious naval career and achievements to the Nigerian Navy. He is a vital asset in managing the naval forces due to his accomplishments, dedication, and knowledge. We anticipate seeing his ongoing success in this significant position.
Who is the current Chief of Naval Staff?
Rear Admiral Ikechukwu Ogalla's selection as Chief Naval Staff has received praise from Benjamin Kalu.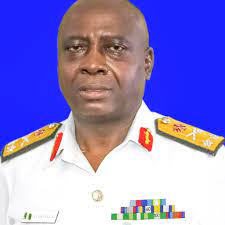 What are some of Ogalla's notable achievements in his naval career?
Rear Admiral Ogalla has held a variety of positions on board different ships, taken part in ECOMOG operations in Liberia, managed anti-illegal bunkering operations, and significantly improved curriculum and equipment acquisition.