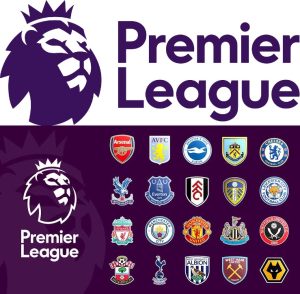 5 Most Dangerous Strikers In The Premier League 2023
There are many exceptional strikers that can dangerously threaten any kind of defense quality in the premier league this season, and many uncountable qualitative players that can contribute to those breaking any line of defense.
But some of the most threatening strikers can potentially tear down any morale and confidence considering their exceptional behavior on the pitch. They possess some accurate perception in deciding the ball in their foot.
Looking at the situation from the beginning of the season and also the end of the last season, strikers have been in full control of the whole league which is improving their team efficiency by taking them further ahead in the race.
I have the list of the 5 Most Dangerous Strikers in the premier league this season, for you to have a look at their scoring records and chance assuring possibility. This has been looked at well through the picture of the actual football efficiency.
Ranging from the striker's accuracy in shots, his dribbling impact, his speed, determination, and strength, all those abilities have been displayed by many solid strikers in the premier league last season and also pre-season friendlies and the season initials.
Check Out the 5 Most Dangerous Strikers In the Premier League 2023
Erling Haaland – No. 9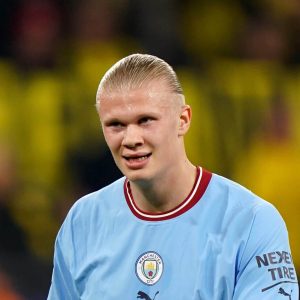 Erling Braut Haaland, born July 21, 2000, is a Norwegian professional football player who plays as a striker for Premier League side Manchester City and the Norway national team. His native tongue is Urban East Norwegian, and his pronunciation is.
He is regarded as one of the top players in the world and is well-known for his strength, quickness, positioning, and box-to-box finishing With 36 goals, Haaland holds the record for the most goals ever scored in a single Premier League season.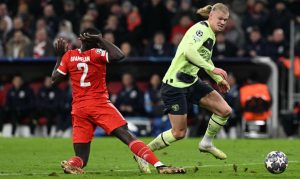 Check Out Best Of Erling Haaland 22/23 The Ultimatum Video below :
Marcus Rashford – No. 10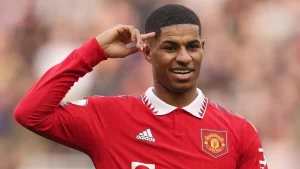 Marcus Rashford (Born October 31, 1997) is a forward for Premier League Club Manchester United and the England national football team. He is an English professional football player. He is considered one of the best forwards in the world.
He was a graduate of the Manchester United youth program and joined the team when he was seven. In February 2016 when he made his first-team and European debuts against Midtjylland in the UEFA Europa League and three days later against Arsenal in the Premier League, Rashford scored two goals on each occasion.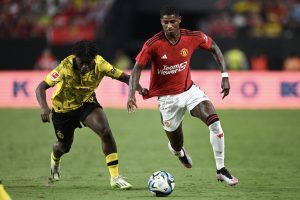 He also scored on his EFL Cup and UEFA Champions League debuts, as well as in his first Manchester derby. Rashford has won the UEFA Europa League, two EFL Cups, the FA Community Shield, and the FA Cup with United.
Check Out All Of Rashford 30 Goals for 2022/23 below:
Mohammed Salah – No 11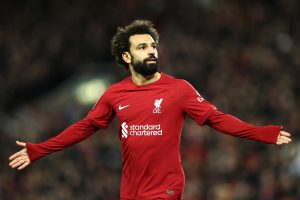 A striker for Premier League side Liverpool, Salah (born June 15, 1992), better known as Mo Salah, is a professional footballer from Egypt who also serves as the captain of his country's national team. He is renowned for his clinical finishing, dribbling, and pace. He is regarded as one of the best players of his generation and among the greatest African players of all time.
Salah began his senior career in 2010 with Al Mokawloon before moving on to Basel in 2012, where he won two Swiss Super League championships. In 2014, Salah reportedly paid £11 million to join Chelsea. However, due to a lack of playing time, he was later loaned out to Fiorentina and Roma before being permanently acquired by the latter for €15 million.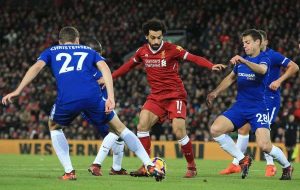 He broke the record for the most Premier League goals scored (32) in a season of 38 games and led Liverpool to the 2018 UEFA Champions League Final in just his first season. After Philippe Coutinho left, Roberto Firmino, Sadio Mané, and Salah formed a potent attacking trio.
Salah then played a key role in the club's Champions League and Premier League championship victories in the following two seasons. Since then, Salah has also won the FA Cup and the League Cup.
Check Out Every Mohamed Sala Premier League Goals For Liverpool below:
Antony – No. 21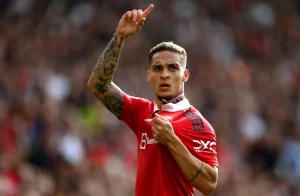 Brazilian professional footballer Antony Matheus dos Santos, better known by his stage name Antony, was born on February 24, 2000. He now plays as a winger for Manchester United of the Premier League and the Brazil national team.
After completing his studies at the So Paulo school, Antony joined the team as a senior in 2018. In the summer of 2020, he relocated to Ajax, where he played for two seasons and won two Eredivisie championships and a KNVB Cup. Due to Antony's success in the Netherlands, Manchester United paid the highest amount ever for an Eredivisie player: €95 million (£82 million).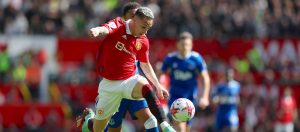 At the 2020 Summer Olympics, Antony won a gold medal with the Brazil under-23 squad. After scoring against Venezuela in his senior international debut in October 2021, he went on to play for Brazil at the FIFA World Cup in 2022.
At the 2020 Summer Olympics, Antony won a gold medal with the Brazil under-23 squad.
Check Out Antony 2022/2023 – Speed show – skills & Goals below:
Alejandro Garnacho – N0. 49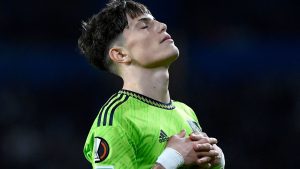 Alejandro Garnacho Ferreyra, a professional football player for Manchester United of the Premier League and the Argentina national team, was born on July 1, 2004. He plays as a winger.
In October 2020, Garnacho transferred from Atlético Madrid to Manchester United's youth system. In May 2022, he received the Jimmy Murphy Young Player of the Year award in addition to the FA Youth Cup. He had made his 17-year-old first-team debut the previous month.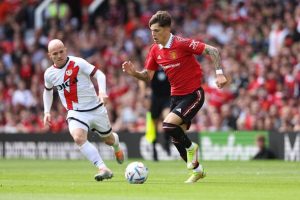 Prior to making his under-20 international debut for Argentina in 2022, Garnacho first represented his birth country of Spain in junior international football. In June 2023, when Argentina's senior team was playing Australia, he made his debut.
He joined the Manchester United Academy in October 2020. United paid a price of £420,000 to Atlético.[4] In July 2021, he penned his first professional deal with the team. His single goal in the FA Youth Cup victory over Everton, which was nominated for United's Goal of the Month award for February 2022, brought him to public attention.
Garnacho made his first-team debut for United on April 28 when he took Anthony Elanga's place in the 91st minute of a 1-1 draw against Chelsea after being listed as an unused replacement for numerous Premier League games.
In May, Garnacho was named the Jimmy Murphy Young Player of the Year. On May 11, against Nottingham Forest, he scored twice in the FA Youth Cup final to help United win.
Check Out Alejandro Garnacho All Goals & Assist so Far At Manchester United below:
See Also
Great And Amazing Midfielders In Chelsea With Surprising Talent And Potential 2022/23
Best Performing Manchester City Midfielders In 2022
2022 Young Best Manchester United Midfielders In Form