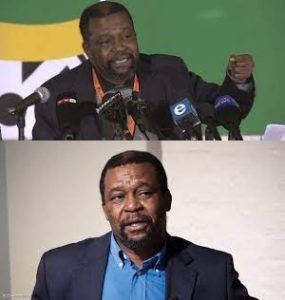 Joel Netshitenzhe is a politician and strategist from South Africa who is well-known for his work on ANC policy and communications. He was born on December 21, 1956.
He was in charge of communications for President Nelson Mandela in 1994, the Government Communication and Information System from 1998 to 2006, and the Presidency's policy unit from 2001 to 2009 under Presidents Thabo Mbeki and Jacob Zuma, though he was thought to be Mbeki's closest ally.
Former anti-apartheid activist Netshitenzhe participated in the negotiations that abolished apartheid and served on the ANC National Executive Committee from 1991 to 2022.
Joel Netshitenzhe  Profile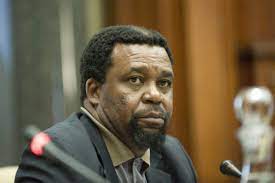 Name
Joel Netshitenzhe
Title
Mr.
Place of birth
Sibasa, Venda
Nationality
South African
Gender
Male
Profession
Politician
Education
Financial Economics
Economic Principles
Political Science
Alma mater
University of London
Institute of Social Sciences, Moscow
Joel Netshitenzhe Education
Joel has a PG Diploma in Economic Principles and an MSc in Financial Economics. These diplomas were issued to him by the University of London.
Additionally, Netshitenzhe has a political science diploma from the Moscow Institute of Social Sciences.
Joel Netshitenzhe Early life and career
On December 21, 1956 Netshitenzhe was born in Sibasa, Northern Transvaal, a village that later became the bantustan of Venda and, after apartheid ended, the province of Limpopo. At the age of twenty, he left the University of Natal where he was enrolled in medical school to join the African National Congress (ANC) in exile. Up until 1978, he trained as a soldier in Angola with Umkhonto weSizwe. After that, he remained in exile and worked as a journalist at Radio Freedom of the ANC.[3] Later, he edited Mayibuye, the organization's official journal, using the alias Peter Mayibuye.
He graduated with a degree in political science from the Institute of Social Sciences in Moscow in 1984. He went on to acquire an MSc in financial economics from the School of Oriental and African Studies in London in 1999 and a postgraduate degree in economics from the same institution in 1996.
From 1983 through its successor, the Internal Political Committee, Netshitenzhe served as a member of the ANC's Political HQ, the branch of the National Executive Committee of the ANC in charge of the political facets of the anti-apartheid campaign inside South Africa.
He joined the larger Politico-Military Council, which coordinated the military and political facets of the conflict, in 1985. At the same time, between 1984 to 1990, Netshitenzhe served as the ANC's chief of information and propaganda, emerging as the group's "ultimate spin doctor" during Ferial Haffajee's era. In July 1991, he was chosen for the first time to the ANC's National Executive Committee. By that point, the National Party government of South Africa had lifted its ban on the ANC, and Netshitenzhe returned from exile to take part in the discussions to put an end to apartheid as a member of the ANC negotiating team.
Career in government
In 1994, when the ANC's Nelson Mandela won the country's first democratic elections and took office as president, Netshitenzhe was appointed as Mandela's chief speechwriter and head of communications. He was chosen to serve as the first chief executive of the Government Communication and Information System (GCIS), which was launched in 1998 to replace the apartheid-era system. Services for South African Communications
Later on, concurrently, he worked for President Thabo Mbeki as the head of policy in the presidency. He assisted in creating the Policy Coordination and Advisory Services (PCAS) section within the Presidency, and Netshitenzhe was regarded as having significant influence on the formulation of macroeconomic policy.
In 2009, after Jacob Zuma succeeded Thabo Mbeki as president, Netshitenzhe was appointed director general of PCAS, where he worked with minister Trevor Manuel, who was in charge of the National Planning Commission, to develop policy. He abruptly left PCAS in October 2009, with his departure taking effect at the end of December. Netshitenzhe said that his departure had been mutually agreed upon and was connected to a reorganization of the planning units in the Presidency and cabinet, despite media speculation to the contrary[8] that it was because of recent criticisms he had made publicly of Zuma's administration.
He joined Nedbank in 2010 as an independent non-executive director and from 2010 to 2015, he served on the National Planning Commission. In addition, he held positions as Executive Director and Vice Chairperson at the Mapungubwe Institute for Strategic Reflection, a South African think tank. He also served on the boards of the Council for Scientific and Industrial Research and the Life Healthcare Group.
Career in the ANC
Working for the government while advising the ANC on communications during the Mandela and Mbeki presidencies, Netshitenzhe was regarded as one of the ANC's top strategists and policymakers, or, in the words of the Mail & Guardian, as its "chief ideologue". The ANC's post-apartheid cadre deployment policy was largely influenced by a 1996 essay he published on the National Democratic Revolution for the ANC journal Umrabulo.  Mbeki's biographer, Mark Gevisser, compared Netshitenzhe's tutelage by Mbeki to Mbeki's earlier mentorship by Oliver Tambo and described him as Mbeki's protégé.
Mbeki and Pallo Jordan were acknowledged by Netshitenzhe as major influences, and during Mbeki's presidency, he was regularly mentioned as a potential successor to Mbeki.
The rising antagonism between Mbeki and Zuma, however, was seen as harming Netshitenzhe's chances as Zuma rose to prominence within the ANC. Netshitenzhe accepted a nomination to run for national chairperson of the ANC prior to its 52nd National Conference in Polokwane in 2007[20], but Baleka Mbete, the Zuma-backed candidate, defeated him in a vote. But in 2012 and 2017, he was again chosen to serve on the ANC National Executive Committee.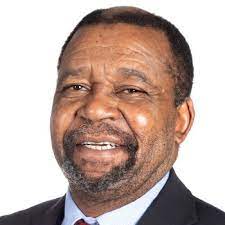 The ANC Veterans' League endorsed Netshitenzhe as a candidate for the National Chairperson role in November 2022, ahead of the ANC's 55th National Conference, despite the fact that he had not run for the position. Netshitenzhe was not re-elected to the National Executive Committee at the conference, and newly elected ANC Secretary-General Fikile Mbalula referred to this as "a big problem."