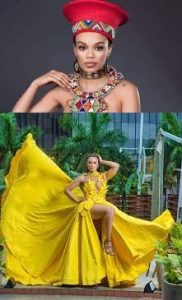 Pearl Thusi is a South African model, radio host, and actress who was born on May 13, 1988, in KwaZulu-Natal. She also pursues other careers in business and presentation. She gained notoriety in 2006 after being hired as a presenter for the SABC3 program iCrew.
She has also participated in a number of pageants and won them. Let's go back to 2005, when she participated in the Miss KwaZulu-Natal pageant. She proved that the other competitors weren't a match for her by taking first place in the competition.
Pearl competed in the Miss SA Teen pageant in 2003 and came in as the first runner-up.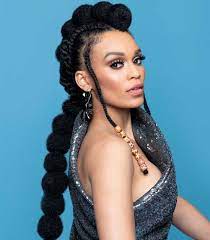 Name
Sithembile Xola Pearl Thusi
Other names
The Real Black Pearl
Born
13 May 1988 (age 33 years)
KwaZulu-Natal, South Africa
Nationality
 South African
Gender
Female
Children
Thandolwethu, Okuhle
Education
Start-up Venture Course
Communications Science
Alma mater
Wits Business School
University of South Africa
Profession
Actress, model, radio personality, television host, businessperson
Baby Daddy
Robert Marawa
Pearl Thusi's early life and parents
Sithembile Xola Pearl Thusi, the media personality, was born in Kwa-Zulu Natal on May 13, 1988. Pearl, who is the oldest kid and is of black heritage, has two younger sisters named Prunella and Pamela Thusi.
When Pearl Thusi was only a teenager, her mother passed suddenly. In numerous interviews, the actress and media personality has talked adoringly about her late mother and expressed how she wishes she had lived to see her succeed in the entertainment business.
Pearl broke down in tears as she spoke about the cruelty her mother endured at the hands of her father in 2018 during a Woman's Month event address. Because black men were the cause of all of her family's suffering while she was growing up, she made a vow not to marry one after witnessing her mother being abused as a teenager. But now that she is an adult, she has admitted that not all black guys are like this and has retracted her earlier claim that she would never marry a black man.
Pearl Thusi's education and early career
Pearl briefly pursued a B.A. in theatrical arts at the University of the Witwatersrand. She briefly put her studies on hold when her career started taking up the most of her time, but she soon went back and finished her Bachelor of Arts degree.
A host, actor, model, and all-around media personality, Pearl also works in modeling. When she finished first runner-up at the Miss South African Teens pageant in 2003, when she was only 15 years old, her modeling career took off.
This chance served as the starting point for her modeling career, as she went on to appear on magazine covers, commercials, and music videos, as well as some national and international shows.
Pearl Thusi's Professional Career
In 2009, she costarred with American singer and actress Jill Scoot in the No. 1 Ladies Detective Agency as Patricia Kopong in her first recognized television acting role.
Pearl Thusi served as a co-host of the music show Live Amp on SABC 1 from 2011 to 2016. She also appeared on Real Goboza for a short time.
She played the role of Palesa Motaung in Isidingo, which was her second acting gig. Her most prominent television acting performance, meanwhile, occurred when she co-hosted the MTV Lip Sync Battle Africa and appeared in the American drama/thriller Quantico.
Pearl Thusi's Movie Roles
The media personality is the name behind four motion pictures. 2015 saw the release of her debut film, Tremors 5: Bloodline. In 2017, she appeared in two movies with leading roles; the first was the critically acclaimed Kalushi, and the second was Catching Feelings, which she co-starred in with Kagiso Lediga. She then made an appearance in The Scorpion King: Book Of Souls in 2018.
Pearl Thusi's Relationships
The actress has made an effort to keep her romantic relationships a secret throughout the years due to the media's intense interest in the men she dates.
Pearl Thusi once dated Walter Mokoena, a sportscaster who is also the biological father of her lone kid.
Her second prominent romance was with seasoned sportscaster Robert Marawa. The couple used every trick in the book to conceal their connection, but it was eventually revealed that the two were together when they were repeatedly photographed together. The former couple then officially admitted to dating.
The couple became engaged in 2016, however by August 2017 Robert and Pearl had broken it off.
Robert Marawa tweeted on August 6th to confirm the breakup, writing:
"I can confirm that our connection with Miss Pearl Thusi ended a few months ago, as rumor and speculation had suggested. However, we remain close friends.
After social media fans noticed similar Instagram photos from the two and from numerous other sources who saw Pearl and Serge together while she was abroad in 2018, rumors of Pearl dating NBA player Serge Ibaka went berserk.
Pearl Thusi's daughter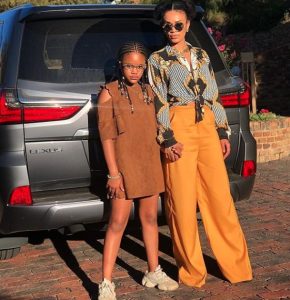 Walter Mokoena, a sports anchor, and Pearl share parenting of their daughter Thandolwethu Mokoena.
Pear Thusi's Awards and Nominations
The media personality is accustomed to receiving nominations and accolades.
She was nominated for Best Actress at the SAFTAs for her supporting performance as Samkelisiwe on Zone 14.
She has been named the most fashionable female celebrity at YOU Spectacular.
She received a nomination for Best Actress at the first Rapid Lion Film Festival for her work in the movie Kalushi.
She received one of the Sunday Times Generation Next Awards' Coolest Female Celebrities votes in 2015.
How did Pearl Thusi become famous?
When she finished as the first runner-up in the Miss South African Teens pageant in 2003, her modeling career took off.
Who is Pearl Thusi's best friend?
Zinhle
No matter where you are in the globe, the well-known DJ's nearly ten-year friendship with the actress Pearl Thusi has been an example of love. Zinhle calls her friendship with Pearl "a sisterhood" in an interview with Dineo Ranaka and Sol Phenduka of Kaya FM's morning show.
Does Pearl Thusi have an adopted child?
In 2018, the 33-year-old woman adopted Okuhlekonke, her first kid. When it comes to family matters, Pearl is infamously reserved, so she kept the adoption a secret for months. But ever since the adoption was confirmed, Pearl hasn't stopped raving about Okuhle, as the family refers to her.