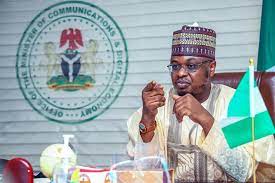 The federal executive council (FEC) has approved the national blockchain policy for Nigeria. 
At the FEC meeting on Wednesday, which was presided over by President Muhammadu Buhari, the council gave its approval.
The clearance is a key step towards the nation's digital transformation, according to Isa Pantami, minister of communications and digital economy, who briefed state house reporters.
According to the minister, the policy would formalize blockchain technology use in Nigeria and ensure its acceptance in a number of industries, including finance, security, education, and business.
According to Pantami, 56 organizations and individuals provided input into the creation of the policy.
He said that in order to enable the execution of the strategy, the National Universities Commission (NUC), Nigerian Communications Commission (NCC), Security and Exchange Commission (SEC), and Central Bank of Nigeria (CBN) have been ordered to build regulatory tools within their respective sectors.
According to Pantami, Nigeria has joined other nations in approving and legalizing blockchain technology, including the United Kingdom, Denmark, Switzerland, Estonia, Georgia, Singapore, and the United Arab Emirates.
According to the minister, blockchain technology could boost the global GDP by $1.76 trillion by 2030 and help secure data integrity.
The minister announced that a national steering council will be created to coordinate the work of pertinent government agencies toward the execution of the strategy.
The process would be supervised by the National Information Technology Development Agency (NITDA).
The use of cryptocurrencies was outlawed in 2021 by the federal government through the Central Bank of Nigeria (CBN).
The apex bank ordered banks to delete from their systems any accounts belonging to people or organizations that had participated in bitcoin transactions.
"The term "cryptocurrency" is used to characterize the behaviors of traders in a shadowy electronic environment where transactions are very opaque, invisible, and opaque. The CBN governor, Godwin Emefiele, had stated that the individuals in question deal in transactions that they do not want to be tracked.