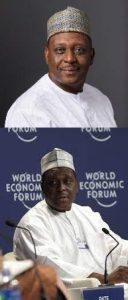 FREE AIRTIME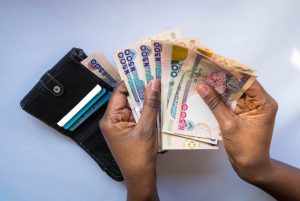 Muhammad Ali Pate CON, a Nigerian physician and politician, was born on September 6th, 1968. He currently holds the position of Professor of the Practice of Public Health Leadership at Harvard University's Department of Global Health and Population. He formerly held the positions of Director of the Global Financing Facility for Women, Children, and Adolescents (GFF) and Global Director for Health, Nutrition, and Population at the World Bank Group. Pate was formerly Nigeria's Minister of State for Health.
Pate received Nigeria's national honors on Tuesday, October 11, 2022, together with Ngozi Okonjo-Iweala[8] and Amina J. Mohammed. The title of Commander of the Order of the Niger (CON) was awarded to Pate.
At the Harvard T. H. Chan School of Public Health earlier this year, Pate was named the Julio Frenk Professor of Public Health Leadership. Pate previously served as Nigeria's Minister of Health. He served as the executive director of the National Primary Health Care Development Agency in Abuja before being appointed in July 2011.
On July 24, 2013, he announced his resignation as Nigeria's Minister of State for Health in order to become a professor at Duke University's Global Health Institute in the United States. He was once Big Win Philanthropy's chief executive officer. and a part-time instructor in global health at the Duke Global Health Institute.
Pate will be a Julio Frenk Professor of the Practice of Public Health Leadership at the Harvard T.H. Chan School of Public Health beginning on September 1, 2021.
Muhammad Ali Pate was appointed CEO of GAVI, the Vaccine Alliance, which aims to supply vaccines in low-income countries, in February 2023.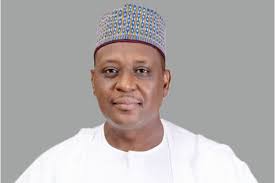 Early life and education
Muhammad Ali Pate was nurtured in Nigeria's north after being born in the Misau local government area of Bauchi State. He is a Fulani herdsman's son.
Pate, the first member of his family to complete secondary school, entered the Ahmadu Bello University (ABU) medical school in Kaduna State, Nigeria, after graduating from high school. His career at rural hospitals in Gambia began after he received his medical degree from ABU.
At that time, he was a fellow in infectious diseases at the American University of Rochester Medical Center. He holds a medical degree from Duke University in the United States and is board certified in internal medicine and infectious diseases. He had previously attended University College London.[26] From the London School of Hygiene & Tropical Medicine in the UK, he also holds a master's degree in health system management.
Personal life
Muhammad Pate is married and has two boys and four children. In northern Virginia, he is a resident. He is a devout Muslim. As the "Chigarin Misau" from his birthplace, Pate has the equivalent of a knighthood.
Early career
Muhammad Pate had a long career spanning more than 10 years at the World Bank in Washington, DC, where he held a number of senior positions, including Senior Health Specialist and Human Development Sector Coordinator for the East Asia/Pacific Region and Senior Health Specialist for the African Region. Muhammad Pate was appointed to the NPHCDA in 2008. The extensive health sector reform programs in Africa, East Asia, and other World Bank regions were one of Pate's key projects while working there. His founding of a historic public-private partnership to replace a national referral hospital in Lesotho, Africa, is noteworthy.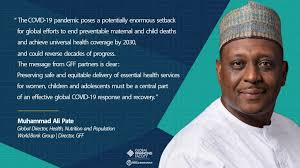 Other board, commission, and committee memberships
• Co-chair of The Lancet Global Health Commission on High Quality Health Systems, alongside Margaret Kruk. On September 6, 2018, a report was released. • Member of the Lancet Commission on the Eradication of Malaria -ongoing • Participant in the Lancet Commission on Sub-Saharan Africa's Future of Health (Report 2017-09) • Participant on the Global Polio Eradication Initiative's Independent Monitoring Board • From 2015 until 2022, board member, American International Health Alliance, Washington D.C. • Aceso Global's board member 2015-2022 in Washington, D.C. • Healthcare Leadership Academy board member a. Member
Investment committee of Flint Atlantic Capital • Member of the steering committee for the Value of Vaccination Research Network at Harvard University • Member of the Bill and Melinda Gates Foundation's steering committee for the 2011–2012 study assessing the effects of polio eradication on routine immunization and primary healthcare. • Editors' committee for BMJ Global Health • Co-chair, Private Sector Health Alliance of Nigeria; Senior Fellow of the Nigeria Leadership Initiative (NLI), inducted at Yale University, New Haven, Connecticut, in April 2015; Advisory Board member, Ethiopian International Primary Health Care Institute;
Recognition
Harvard Ministerial Leadership Program's 2012 award for "Harvard Health Leader"